Get adWords

Find the right customers with Google AdWords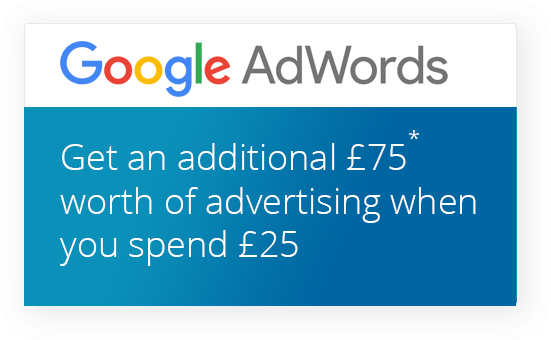 Easyspace has teamed up with Google to offer its customers Google AdWords to drive more traffic to their websites and grow their business online. Easyspace customers can take advantage of this great offer and receive £75 worth of additional Google advertising*
How to qualify?
Become an Easyspace customer – simply purchase any hosting products such as web hosting, domain name, dedicated servers, virtual servers, email service and we will give you a unique offer code to get an extra £75 when you spend £25 on Google AdWords in your first month. It's that easy!*
Start advertising with

Google AdWords in five easy steps
Visit Google AdWords and click "Start now"
Set up your campaign
Create your first ad
Choose your keywords
Redeem your offer by entering your promo offer code and billing info.
What are AdWords?

Find out the benefits of AdWords

Google AdWords is the world's largest online advertising programme and gives you access to millions of UK users who are actively looking for what you're selling.

AdWords helps connect you with potential customers in the right place, and at precisely the right time by placing targeted ads against search results on Google or against relevant content across Google's partner network.
Control
You decide how much you want to pay per click and set your daily budgets.
Transparency
Easy to use reports to see at a glance how much traffic you're getting, where it's coming from and what its cost.
Flexibility
With AdWords you can start, stop and change your campaigns as and when you choose
† Calls to 0800 numbers are free from BT landlines but charges may apply if you use another phone company, call from your mobile or call from abroad. We're here to take your call Monday to Friday from 9am to 6pm. Support is available in English only. Offer subject to business and website qualification.
*Terms and conditions for this offer:

In order to activate this offer, you need to enter the promotional code through the Billing tab in your account before 18th March 2019.
Promotional codes have no promotional value and entry of the promotional code serves only to begin your qualification for the associated promotional credit. To qualify for the promotional credit you must accrue advertising charges in the amount of £25 within 31 days of entering your promotional code. For example, if you enter the code on March 1, 2018 you'll have until March 31, 2018 to accrue advertising charges in the amount of £25.
In all circumstances, you must enter your promotional code before 18th March 2019. in order to activate this offer. Your account must be successfully billed by AdWords and remain in good standing in order to qualify for a promotional credit.
The promotional credit will be applied within approximately 5 days of your account reaching the threshold for accrued advertising charges specified above, as long as you've activated your account using the promotional code and fulfilled all requirements stated in the offer. Once applied, the promotional credit will appear on the Billing Summary page in your account.
For the complete terms and conditions, see:
https://www.google.co.uk/adwords/coupons/terms.html