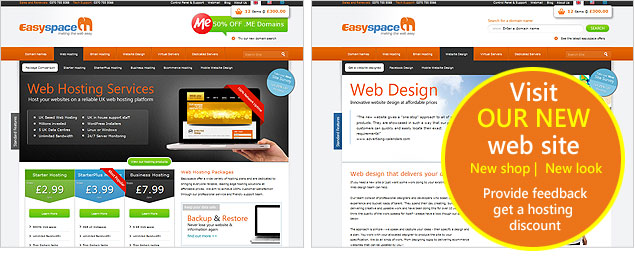 In the last couple of months we have been busy behind the scenes updating the Easyspace website. We are now happy to give you a preview (or beta version) for you to use – and give us your feedback on.
There are lots of new features like a domain history panel – and new shopping cart for you to explore.
We are continuously trying to improve the site throughout this beta phase and hope very much that you can assist us with this process.
Give us feedback and get 25% off hosting!
Simply visit the site
Add things to the shopping cart
See what you think
Within the new beta site you'll see links to our on-going feedback questionnaire.
If you could take the time to give us some feedback on the site we will give you a voucher code that gives you 25% off all hosting packages – you can find this voucher code at the end of the questionnaire!
The new site will be live very soon – so if you do spot something please make us aware of it – and we will fix it!
Thanks for your continued support – we hope you find the new site fresh, appealing and easy to use.
The link for the new site is www.easyspace.com/beta
Kind Regards,
The Easyspace team
p.s. The old site is still there (for now) so should https://www.easyspace.com